Bridge Construction Project: Conception of Underpasses And Viaduct
This project of bridge construction consists of construction of a high-level link, away from the residential areas in the western districts of the town of Strassen, between the national road N6 and the Arlon highway [A6] via the North Strassen interchange. The mission of SERS' bridge construction consultant Dubai focuses on the development and the execution of the design for underpasses and viaducts.
The bridge construction consultant Dubai of SERS establishes an effective structural engineering solution for the conception of building bypass, underpasses and viaduct for a bridge located in Strassen, Strasbourg. Our structural  engineers put all their expertise to carry out this bridge construction mission successfully. The remarkable work of our qualified team of engineers and the high-quality of our tools and equipment ensure a successful execution bridge construction.
We present you some details regarding this bridge construction mission of SERS:
Client: City of Strassen
Start date: 2018
Phase : APS
City: Luxembourg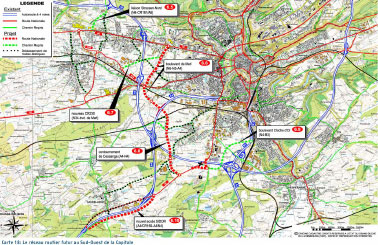 SERS' bridge construction consultants Dubai
SERS bridge construction consulting firm Dubai has gained its extraordinary reputation by the projects they work on, develop and execute. Our team of professional civil engineers and technicians has worked on many prestigious projects. And for this reason, SERS has established ethical commitment to the development of our executions. Another exceptional trait about SERS, is that our team relies on modern and performing equipment, tools and techniques: BIM, prestressing, time dynamics calculations, rupture studies, fire calculation. Moreover, our  professional engineers apply all their expertise to remain at the heart of current and future large-scale projects on the French and international markets. In addition, we encourage our team to stay in touch with the world of research and technology.